This is very exciting. Where do I start?
When Mattel came out with the Style dolls with ankle articulation, I was thrilled! I bought several to use for rebodying and planned to eventually buy more, as my "Rebody Wait List" is never empty. (I even [with the help of my awesome wife] switched out the legs from one of the Style dolls with the legs from a Swappin' Styles Fashionista, which wasn't easy as they are not made to be interchangeable. I'll blog about that soon, with pictures. 🙂 )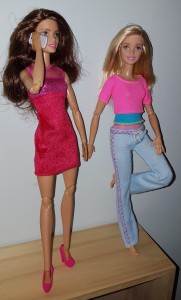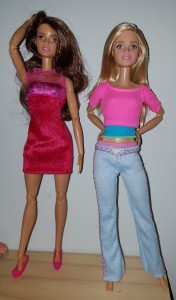 .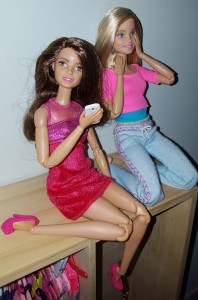 .
.
.
.
.
And then one morning last month, I was looking at new photos added by my contacts on Flickr, and I saw them: (Cue "angels-singing-ta-dah" music) . . . the 2016 Made To Move Barbie dolls! This body is super-poseable and (as many other people have pointed out also, so I'm not the only one excited about this) can hold a phone up to her ear! She can also touch her face, to wipe away a tear or show emotion in any number of additional ways.
To illustrate why it's so exciting to be able to pose a doll with her hand up to her face or her ear, here are some photos of my character, Jenna (on a Swappin' Styles Fashionista body), with her daughter, Sydney, that I took in 2013. (Click any image to see the slideshow.)
I've really been enjoying posing these dolls. Their joints are tighter than on my Fashionista bodies, too, so they hold their poses nicely.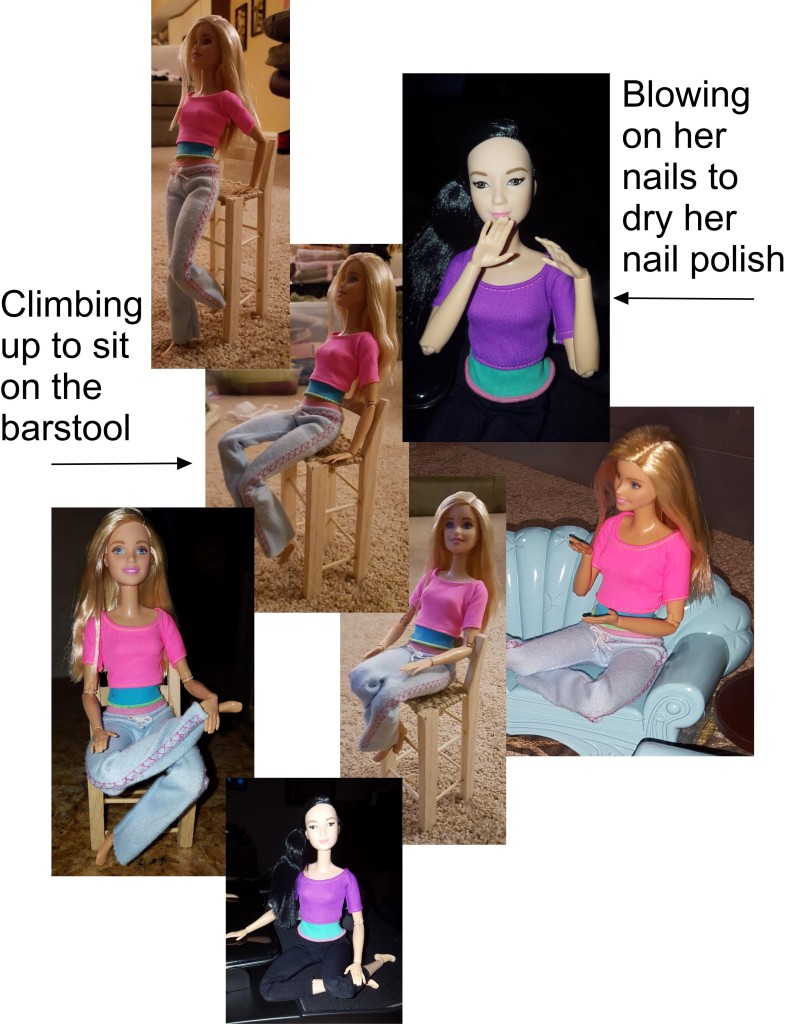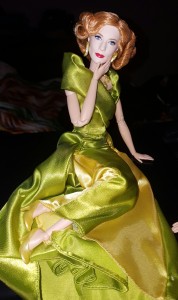 I happened to find this Disney Lady Tremaine doll on sale recently, and I rebodied her with one of the Made To Move bodies. The skin tone isn't a perfect match, but I'm beyond thrilled with all the posing possibilities!
.
.
.
.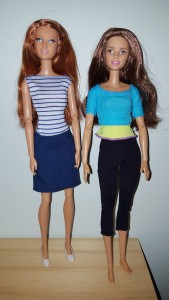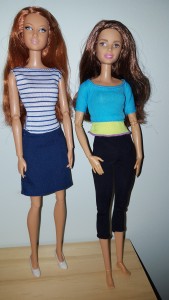 The only drawback I've found with the Made To Move bodies (and it's minor, really) is that their arms can't hang straight down at their sides. I tend to pose my dolls with at least one arm straight down fairly often, but there are other natural-looking poses I can use, so I'm ok with that, and it actually adds to her overall fit/muscular look that she can't hold her arms right up against her torso. (Jamie, on the left, is on a Fashionista body – from before Mattel stopped making articulated Fashionista bodies.)
.
Thank you, Mattel, for making these dolls! You have made me and many other adult fashion doll collectors / photographers / storytellers / grown-ups-who-aren't-ashamed-to-admit-we-play-with-dolls-and-we-love-it very happy! I'm sure some children out there will be very happy as well; when I was a kid, playing with my early-1970's era Barbies, I always wished they could bend their elbows and pose in more natural ways.
There are some awesome, creative, and entertaining photos of the Made To Move dolls cropping up in the doll-blog-sphere. Check out City Circlez Blog's post, Roville's Blog post, Doll-lightful's post, and a great review by The Toy Box Philosopher, for starters!
I've been hearing and reading that these dolls will be officially released in early 2016, however I did recently purchase some at Toys R Us. (I got my first few on Amazon, but they quickly sold out and are now [as of the last time I checked] for sale by other sellers at a much increased price.) I still haven't seen the AA doll for purchase yet, but as soon as I do, she will join my cast of characters, along with a few extras for rebodying! I'm guessing she must be the doll that will be exclusive to Target, as mentioned by City Circlez Blog.
Oh, and the Made To Move dolls can also imitate Tina Fey doing . . . whatever it was she was doing . . . on SNL the weekend before last: