About This Character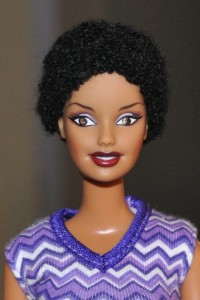 Age: 44
Occupation: Cook for the Landry Household
Relationship Status: Married to Terrell
Children: Daughters Tee and Neechelle
Cousins: Roxie
.
About This Doll/Figure
Formerly (before becoming one of my characters), this doll/figure was: a Barbie as Catwoman doll
Hybrid/OOAK Status: I rebodied her onto a Fashionista Artsy/Nikki body. I removed her hair and got her a wig (#7585) by Tabloach Productions. I also touched up her eyes with paint (to remove the cat-like pupils), but I want to do it again and make it look better.
Head/Face Mold: Generation Girl (thanks, D7ana, for your comment!)