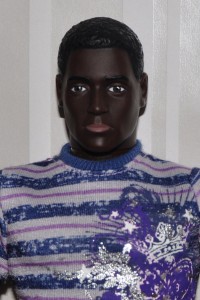 About This Character
Character Name: Terrell York
Age: 46
Occupation: I haven't decided yet
Relationship Status: Married to Veda
Children: Daughters Tee and Neechelle
See more of Terrell.
About This Doll
Formerly (before becoming one of my characters), this doll/figure was: I'm not sure. His stamp says "ES Toys, Made in China". I see that blogger Debbie Behan Garrett posted about an ES Toys action figure she has (who happens to be the same as my Terrell) and Ms. Leo commented with some good info about ES Toys.
Hybrid/OOAK Status: I haven't made any changes to him.