About This Character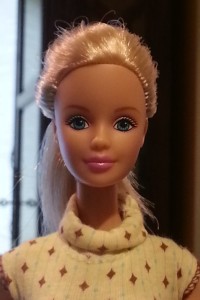 Age: 54
Occupation: Owner of Buds & Blossoms
Relationship Status: Married to Ben
Siblings: Sister Phyllis and brother in law Arthur, sister Rose and brother in law Martin
Children: Daughters Cleo and Tina
Nieces/Nephews: Gary, Kirk, Carolyn, Michelle, Paul
See more of Sheila.
About This Doll/Figure
Formerly (before becoming one of my characters), this doll/figure was: A Barbie, but I don't know which one. She appears to be the same as my
Phyllis
doll, only with green/turquoise eyes. Does anyone know who she was?
Hybrid/OOAK Status: I cut her hair a little shorter, added some gray at her temples, and curled her hair. I also rebodied her onto a body with jointed knees.
Head/Face Mold: Mackie (?)