About This Character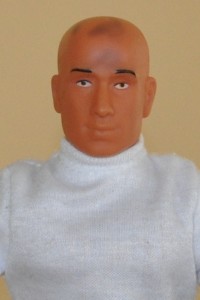 Age: 51
Occupation: I haven't decided yet
Relationship Status: Not seeing anyone at present
Siblings: Brother Gregory
.
About This Doll/Figure
Formerly (before becoming one of my characters), this doll/figure was: I don't know. Can anyone identify him?
Hybrid/OOAK Status: I haven't made any changes to him.
---
Identifying Info:
I'm trying to add photos or text about marks, stamps, and other identifying information to these bios, wherever possible, in case others who (like me) buy most of their dolls and/or action figures at thrift stores, flea markets, and yard sales and may be curious about the origins of some of them. If someone searches the Internet with the info that is stamped on the back of a doll or action figure's body and it's one that I own, my hope is that they will land here and I'll be able to help them in their quest for answers!
Please leave a comment below and let me know if you found my site by searching for a specific doll or action figure!
I found this guy at a flea market. I attempted to get the marks off of his head, but I couldn't get them, so I think they will be incorporated into the character's history as burn scars. He was missing his left arm below the elbow when I found him also, and that will be part of his story as well.
I don't see any brand stamp on him – only "Made in China" on his back. He is fairly light-weight, and his feet seem to have faded (and cracked a bit) where his boots must have been.