About This Character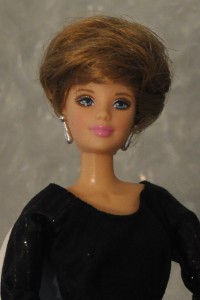 Age: 52
Occupation: Vice President of Landry Holdings, Owner of Sebastian Estates
Relationship Status: Married to Arthur
Siblings: Sister Rose and brother in law Martin, sister Sheila and brother in law Ben
Nieces/Nephews: Nephew Paul; nieces Carolyn, Michelle, and Cleo
See more of Phyllis.
About This Doll/Figure
Formerly (before becoming one of my characters), this doll/figure was: I don't know. I found her at a thrift store a couple years ago. Below is a picture of what she looked like then. Does anyone recognize her?
Hybrid/OOAK Status: I rebodied her onto a Liv body, removed her hair, and gave her a Monique Bebe wig.
Head/Face Mold: Mackie