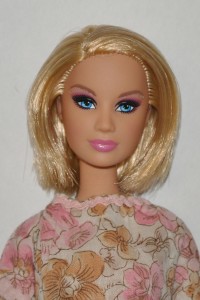 About This Character
Character Name: Nora Harrison
Age: 41
Occupation: Therapist, The Center for Self Actualization
Relationship Status: Married to Mitch
Children: Son Reid
Siblings: Sister Jeanine and brother in law Boyd, brother Michael, Sister in law Gwen and brother in law Dieter, sister in law Maya and brother in law Bryan, sister in law Cobie and brother in law Frank, sister in law Erin and brother in law Matt
Nieces/Nephews: Nieces Jenna and Julie, nephew Bryce (Julie and Bryce live in Florida and belong to my sister), great-niece Sydney. Through marriage: Nieces Alexandria, Fern, Nicci, Teresa, Jewel, and Callia; nephews Douglas, Derek, and Zach (who lives in FL and belongs to my sister) great-nieces Sophie, Taylor, and Madison.
Cousins: Gloria, Gloria's children Reese, Addison, and Riley
See more of Nora.
About This Doll
Formerly (before becoming one of my characters), this doll/figure was: a Barbie doll, but I don't know which one. Does anyone recognize her? Her hair was apparently longer at one time. *
Hybrid/OOAK Status: I haven't made any changes to her yet, but someone apparently cut her hair before she went to the thrift store where I bought her.
Head/Face Mold: Unknown – ?
* See Nora's Second Style photo: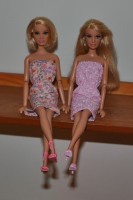 It occurred to me that Nora seems to have the same face mold as Jeanine, but lighter hair and a slightly different skin tone, and that is how they wound up being sisters.