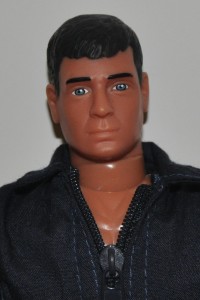 About This Character
Character Name: Mitch Harrison
Age: 50
Occupation: I haven't decided yet
Relationship Status: Married to Nora
Children: Son Reid
Siblings: Sister Gwen and brother in law Dieter, sister Erin and brother in law Matt, sister Maya and brother in law Bryan, sister Cobie and brother in law Frank. Through marriage: Sister in law Jeanine and brother in law Boyd, brother in law Michael
Nieces/Nephews: Nieces Alexandria, Fern, Nicci, Teresa, Jewel, and Callia; nephews Douglas, Derek, and Zach (who lives in FL and belongs to my sister); great-nieces Sophie, Taylor, and Madison. Through marriage: Nieces Jenna and Julie, nephew Bryce (Julie and Bryce live in Florida and belong to my sister), great-niece Sydney
See more of Mitch.
About This Doll
Formerly (before becoming one of my characters), this doll/figure was: I'm not sure. His stamp says "ES Toys, Made in China". I see that blogger Debbie Behan Garrett posted about an ES Toys action figure she has (who happens to be my Terrell in Port Sebastian) and Ms. Leo commented with some good info about ES Toys.
Hybrid/OOAK Status: I haven't made any changes to him. He is missing one foot, but I think I can hide that fact with boots and/or camera angles.
Identifying Info: I'm trying to add
photos or text about marks, stamps, and other identifying information to these bios, wherever possible, in case others who (like me) buy most of their dolls and/or action figures at thrift stores, flea markets, and yard sales and may
be curious about the origins of some of them. If someone searches the Internet with the info that is stamped on the back of a doll or action figure's body and it's one that I own, my hope is that they will land here and I'll be able to help them in their quest for answers!