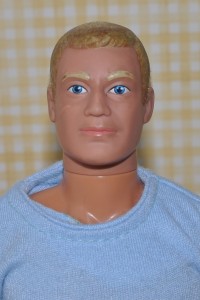 About This Character
Character Name: Michael Armannsson
Age: 60
Occupation: I haven't decided yet
Relationship Status: Widower; not seeing anyone at present
Siblings: Sisters Jeanine and Nora
Children: Daughter Gloria, Son in Law Scott, son Kade
Grandchildren: Reese, Addison, and Riley
Nieces/Nephews: Nieces Jenna and Julie, nephew Bryce (Julie and Bryce live in Florida and belong to my sister.) Great niece Sydney.
See more of Michael.
About This Doll
Formerly (before becoming one of my characters), this doll/figure was: I think he's a GI Joe. I'll check and update this.
Hybrid/OOAK Status: I haven't made any changes to him.