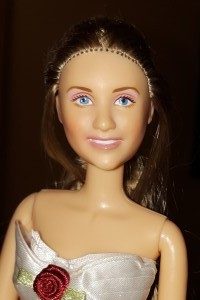 About This Character
Character Name: Marsha
Age: 58
Occupation: Human Resources Manager at PS Productions
Relationship Status: Married to Garth
Other info: I named her Marsha because she reminds me of Marsha Brady. (Any other resemblance between my character and Marsha Brady or Maureen McCormick is unintentional and purely coincidental.).
See more of Marsha.
About This Doll
Formerly (before becoming one of my characters), this doll/figure was: I think she was a Play Along Toys Hannah Montana Lilly Surf Shop doll.
Hybrid/OOAK Status: I rebodied her onto a Liv body.
Identifying Info: I'm trying to add photos or text about marks, stamps, and other identifying information to these bios, wherever possible, in case others who (like me) buy most of their dolls and/or action figures at thrift stores, flea markets, and yard sales and may be curious about the origins of some of them. If someone searches the Internet with the info that is stamped on the back of a doll or action figure's body and it's one that I own, my hope is that they will land here and I'll be able to help them in their quest for answers!
The copyright stamp on her back says "© 2007PA, China".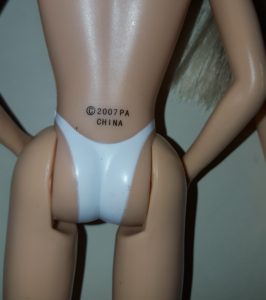 Her original body (left) and her new (Liv) body (right).