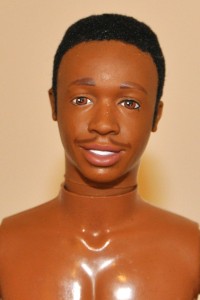 Age: 30
Occupation: I haven't decided yet
Relationship Status: Married to Naima
Parents: Mother-in-law and Father-in-law Rhonda and Wayne
Siblings: Brother-in-law Isaac
Children: Twin son and daughter, Jamal and Lindy
Other info: I gave him the last name "Marteau" because it's French for "Hammer".
See more of Marcus.
About This Doll
Formerly (before becoming one of my characters), this doll/figure was: an MC Hammer doll
Hybrid/OOAK Status: I added flocking to his hair and plan to work on his eyebrows and mustache in the future (see his before-and-after).