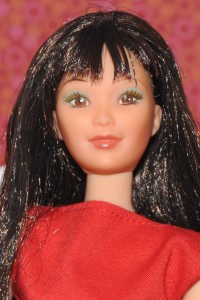 About This Character
Character Name: Kita (Lang) Shaver
Age: 31
Occupation: Teacher at Port Sebastian Middle School
Relationship Status: Married to Dr. Cameron Shaver
See more of Kita.
About This Doll
Formerly (before becoming one of my characters), this doll/figure was: I don't know. I found her at a yard sale and became captivated by her face. Does anyone know who she was?
Hybrid/OOAK Status: I rebodied her onto a Liv body, and I plan to try to fix her eyebrows so one isn't lighter than the other.
Head/Face Mold: Unknown – anyone?