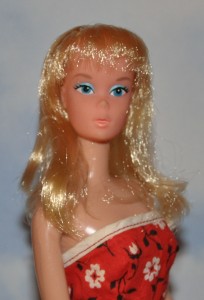 About This Character
Character Name: Dr. Kimberly Augusta
Age: 31
Occupation: OB/GYN, Augusta Women's Health Care
Relationship Status: Married to Nicci Wilcox. Formerly married to Dr. Jerry Carson (divorced)
Children: Daughters Taylor and Madison
Parents: In laws Erin and Matt
Siblings: Sister in law Teresa and brother in law Philip, sister in law Jewel, and sister in law Callia
Other info: Kimberly is a Barbie's Sweet 16 from the 1970's. I had one when I was a kid and I dearly loved her. In my 20's, I unwisely parted with my Barbie dolls, and I've missed them ever since. In December of 2010, I bought this one online. She always makes me smile, as she rekindles some very happy childhood memories for me, and she was the catalyst for my beginning my doll collecting hobby as an adult.
Kimberly appears in:
See more of Kimberly.
About This Doll
Formerly (before becoming one of my characters), this doll/figure was: a 1975 Barbie's Sweet 16 doll
Hybrid/OOAK Status: I rebodied her onto a flat-footed jointed Barbie body
Head/Face Mold: TNT