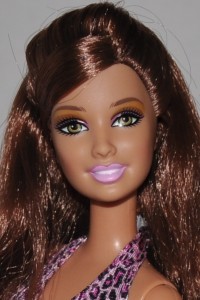 About This Character
Character Name: Jewel Wilcox
Age: 23
Occupation: Manicurist at Salon Sebastian
Relationship Status: Not seeing anyone at present
Parents: Erin and Matt
Siblings: Sister Teresa and brother in law Phil, sister Nicci and sister in law Kimberly, and sister Callia
Nieces/Nephews: Nieces Sophie, Taylor, and Madison
Aunts/Uncles:  Aunt Gwen and Uncle Dieter, Aunt Maya and Uncle Bryan, Aunt Cobie and Uncle Frank, Uncle Mitch and Aunt Nora
Cousins:  Alexandria, Fern, Douglas, Derek, Reid, Zach (who lives in FL and belongs to my sister)
See more of Jewel.
About This Doll
Formerly (before becoming one of my characters), this doll/figure was: I don't know – can anyone help me identify her? I found her at a flea market, on a Fashionista Swappin Styles neck, but I can't find any pictures of any of the Fashionista dolls that matches her in face paint and hair color. She looks like she may be a Sporty/Sassy (?) with different makeup and a different hair color (?)
Hybrid/OOAK Status: I haven't made any changes to her, other than to rebody her onto a different Fashionista body.
Head/Face Mold: Summer?
I have another of this doll with straight hair and different makeup: