About This Character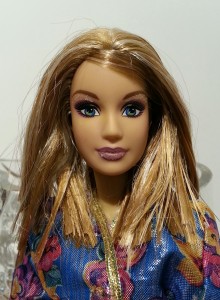 Age: 49
Occupation: Owner of Novel Ideas Books
Relationship Status: Married to Boyd Mitchell
Siblings: Brother Michael, sister Nora
Children: Daughters Jenna and Julie and son Bryce (Julie and Bryce live in Florida and belong to my sister)
Grandchildren: Granddaughter Sydney
Nieces/Nephews: Niece Gloria, great nieces Reese and Addison and great nephew Riley
Other info:
About This Doll/Figure
Formerly (before becoming one of my characters), this doll/figure was: I don't know – does anyone recognize her?
Hybrid/OOAK Status: I rebodied her onto a Liv body and trimmed her hair. I also plan to try to remove some of the glitter from her face, if I can figure out how.
Head/Face Mold: Uknonwn (?)
---
I'm trying to add photos or text about marks, stamps, and other identifying information to these bios, wherever possible, in case others who (like me) buy most of their dolls and/or action figures at thrift stores, flea markets, and yard sales and may be curious about the origins of some of them. If someone searches the Internet with the info that is stamped on the back of a doll or action figure's body and it's one that I own, my hope is that they will land here and I'll be able to help them in their quest for answers!
Please leave a comment below and let me know if you found my site by searching for a specific doll or action figure!
Identifying Info:
Coming soon . . .