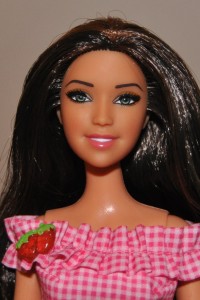 About This Character
Character Name: Jayde Evans
Age: 26
Occupation: I haven't decided yet
Relationship Status: In a relationship with Sky
Siblings: brother Ron, sister in law Merita
Other info: Jayde used to live in Oregon, but she is joining her partner, Sky, as she moves back to Port Sebastian.
See more of Jayde.
About This Doll
Formerly (before becoming one of my characters), this doll/figure was: a Barbie All Dolled Up Stardoll, Brunette
Hybrid/OOAK Status: I rebodied her onto a Liv body.
Head/Face Mold: I don't know – does anyone know if there are names for the Stardoll face molds? Were they already-existing face molds with rooted eyelashes added?