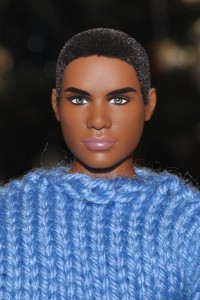 About This Character
Character Name: Jason Ellis
Age: 28
Occupation: I haven't decided yet
Relationship Status: Dating Michelle
Other info: I named him Jason because he kind of reminds me of Jason Derulo. I'd like to get brave enough to try to give him a little bit of facial hair.
See more of Jason.
About This Doll
Formerly (before becoming one of my characters), this doll/figure was: a Texas  A&M University Ken doll – African American
Hybrid/OOAK Status: I haven't made any changes to him, but I'd like to paint some facial hair on him.
Head/Face Mold: Basics AA Ken (Denim)