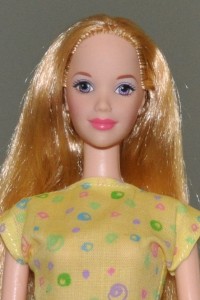 About This Character
Character Name: Gloria Spatzle
Age:  39
Occupation: Secretary to Leah, PS Productions
Relationship Status: Married to Scott
Parents: Dad Michael
Siblings: Brother Kade
Children: Daughters Reese and Addison, Son Riley
Aunts/Uncles: Aunt Jeanine and Uncle Boyd
Cousins: Jenna, Julie and Bryce (Julie and Bryce live in Florida and belong to my sister), First cousin once removed Sydney (Jenna's daughter)
See more of Gloria.
About This Doll
Formerly (before becoming one of my characters), this doll/figure was : I don't know. She's apparently a Disney doll. She had the old Twist & Turn type body with white painted-on underwear. I can't find her face in any of the pics of Disney dolls I've looked at recently. Does anyone know who she is?
Markings / stamps / other info useful for identification: Her head is stamped "Disney" and on her back was "Mattel 1966" and "China".
Hybrid/OOAK Status: I rebodied her onto a Liv body.