About This Character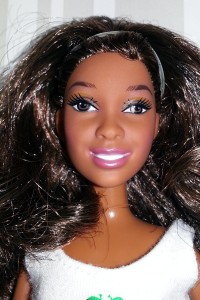 Age: 16
Occupation: Student
Relationship Status: Single teen/tween – not dating anyone at present
Parents: Dad Mason and Mom Kelsey
Siblings: Half sisters Carla and Olivia and half brother Alex. Also grew up with Olivia, Carla, and Alex's step siblings, James and Kiersten, and felt like they were all siblings.
Aunts/Uncles: Aunt  Chandra and Uncle Clay
Cousins: Genre, Tanya, and Zalia
See more of Brooklyn.
About This Doll/Figure
Formerly (before becoming one of my characters), this doll/figure was a: High School Musical Taylor doll
Hybrid/OOAK Status: I haven't made any changes to her.